Small Axe Peppers
Each bottle purchase directly supports the gardens and gardeners who grow peppers for these hot sauces
Overview
| | |
| --- | --- |
| Date Established | 01/2015 |
| Founder | John Crotty |
| Industries | Food |
| Website | https://smallaxepeppers.com/ |
| Press Contact | Daniel Fitzgerald |
| Social | |
About
Small Axe Peppers Hot Sauce, a certified B-Corp, makes their hot sauces with peppers purchased directly from community gardens and urban farms across the United States. Last year, Small Axe Peppers bought over 11,000 pounds of peppers from 52 community gardens in 35 states across America. That translated to more than $30,000 of direct investment back into urban areas and low-income communities. Since its founding in 2015, Small Axe Peppers has partnered with 122 gardens in 42 cities to purchase almost 30,000 pounds of peppers for more than $80,000.
These gardens are located from The Bronx and Baltimore all the way to Los Angeles and Oakland, from Detroit and Chicago down to Texas and Atlanta, as well as many cities in-between. The gardens are managed by refugees, immigrants, high school students, non-profits, faith groups and community organizations. These gardens are amazing places where people from all walks of life can come together through their shared love of gardening and turn formerly abandoned lots into productive oases of fresh fruits and vegetables. They distribute meals and food to people in need, provide jobs in their neighborhood, and most importantly generate empathy and hope in areas that need it most.
Founding Story
The name Small Axe comes from the ancient proverb that says "if you are the big tree, we are the small axe..." Small Axe Peppers believes that the sum of everyone working together is much greater than our individual parts. Every purchase funds gardeners in their work to create healthier, greener, and more vibrant urban spaces. Small Axe Peppers wants to connect socially conscious consumers all over the country to these community gardens through a 5-ounce bottle of hot sauce.
Team Bios
see bio
John has diverse background holding leadership positions in a series of organizations from larger established Governmental entities to startups. Currently in addition to founding a world class hot sauce firm, John and his partners, spend a fair amount of time creating and preserving affordable housing in the NYC metro area . He is a board member of the NYS Gaming Commission as well as NFP Santa Angel's. His love of gardening was sparked when his older daughter decided to forgo her chance at becoming the next Jackie Mitchell, gardening become the substitute activity for the weekends. He graduated from both college and grad school in reasonable time frames, an occurrence many of his elementary school friend's still doubt.
see bio
Dan is the chief operating person at Small Axe Peppers. A graduate from The NYU Gallatin School of Individualized Studies with a degree in Social Entrepreneurship. Dan has been leading the expansion into other markets while continuing to fuel operational efficiencies of our expanding range of products.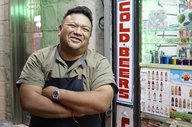 see bio
King Phojanakong is at the forefront of the burgeoning Filipino food movement and is the chef-owner of Kuma Inn and Tito King's Kitchen at Jimmy's 43, in New York City. King is a NYC native whose culinary influences began at home with the inspirational cooking of his Filipino mother and Thai father. A Culinary Institute of America graduate who worked with Daniel Boulud at " Daniel" and David Bouley at "The Danube". Chef King has been featured in television programs including Cutthroat Kitchen, The Rachael Ray Show, Food(ography), Selling New York and Mike Colameco's Real Food. King was a presenter at CIA's Flavor, Quality and American Menus 2012, Worlds of Flavor 2013, Worlds of Flavor 2015 and Flavor Summit 2016. Off line he likes to spin old school hip hop, jam on his Fender Strat and play pinball with his daughter.
Testimonials
Loading Related Guides...
You must be signed in as a media user to from Small Axe Peppers and interact with hundreds of other media-ready brands.
Create your Media account
×