About
Hugo's Cocktails™ are fresh, fruit-forward cocktails meant to be enjoyed anywhere, right from the can or over ice.
We created our drinks with an emphasis on fresh juice you can see and taste. Made with organic ingredients when possible, real sweeteners like organic blue agave, and inspiration from local sourcing like Red Jacket Farms' delicious cold-pressed fui apple juice. Hugo's Cocktails™ were made to be enjoyed.
Real juice. Real drinks. Real refreshment. Hugo's Cocktails™. Flavor, freshness, and consistency in every can.
Founding Story
Cristian and Zach met 12 years ago while working at Michelin Starred Rouge Tomate in New York City. In their three years building an award-winning cocktail program together they developed a deep bond and an appreciation for what one another brought to the table. They recognized that in the same way a great drink requires complementary flavors, the strong foundation for a team requires complementary strengths and weaknesses.
Cristian immigrated from Ecuador by himself at the age of 14. His country's economy had collapsed, and in an attempt to provide for his family he came to the United States. When Covid struck the world in 2020 Cristian lost his job running the beverage program at Ai Fiori in midtown Manhattan and that same familial instinct kicked in. He did what he does best: make delicious cocktails people love. He sold them to friends and family while waiting out what was to happen along with the rest of the world. Something happened in those months working away in his kitchen: people caught wind of his drinks and he was soon being contacted by random individuals and large companies to buy his drinks.
Zach had moved back to Colorado in 2017 and was working in the mortgage industry when he and Cristian reconnected during the pandemic. Cristian thought he was onto something here and brought Zach into the fold of what would become Hugo's Cocktails. Together they set out to make Crisitan's little kitchen project a viable business. After two years of recipe development and a couple scratched go-to-market product strategies they went back to the roots that first brought them together and set out to make a canned cocktail with that same fresh fruit and real ingredient ethos that had brought together so many people seated at their bars over the years. Now they're just in a can:)
Products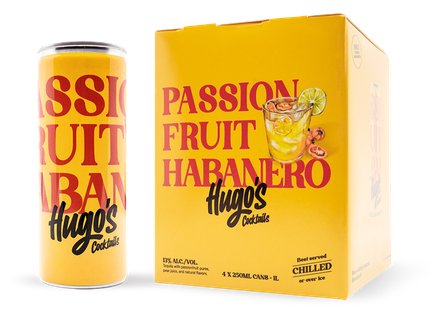 Passionfruit Habañero Margarita
$29.99
You must be signed in as a media user to and interact with hundreds of media-ready brands.
Create your Media account
×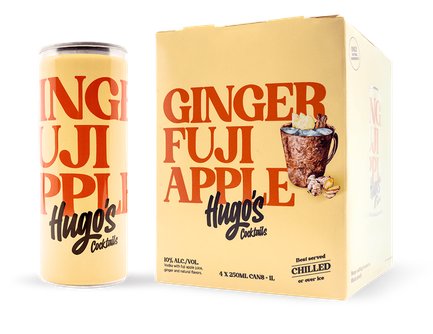 Ginger Fuji Apple Mule
$29.99
You must be signed in as a media user to and interact with hundreds of media-ready brands.
Create your Media account
×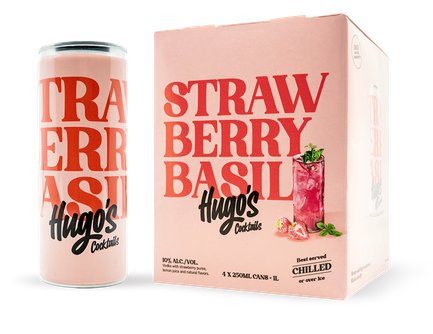 Strawberry Basil Lemonade
$29.99
You must be signed in as a media user to and interact with hundreds of media-ready brands.
Create your Media account
×
Team Bios
see bio
Cristian Molina made a name for himself as the Bar Director of Michelin-starred restaurant Rouge Tomate thanks to his use of locally sourced, seasonal ingredients, innovative preparation methods, and unique flavor combinations.
Inspired by the rich flavors and smells of the markets in his native Ecuador, Cristian has sought to include only the freshest and most naturally sourced ingredients in his juices and cocktails. Cristian has experimented with such techniques as de-hydration and re-hydration, sous-vide cooking, steaming, curing, and pureeing to create unexpected drinks that are healthy, as well as delicious.
Over the years, Cristian has often collaborated with Pascaline Lepeltier, Alta Marea Group, Delicious Hospitality Group, Aurify Brands, and others to create truly original bar menus.
see bio
Zach Moore considers himself fortunate to have met Cristian and found Hugo's Cocktails alongside him. Everything he has learned in the food and beverage industry began in earnest in the three years he worked alongside Cristian and Master Sommelier Pascaline Lepeltier at Michelin-starred Rouge Tomate. From there he gained a further appreciation for cocktails and hospitality while working for Andrew Carmellini's Noho Hospitality, the Major Food Group while at Dirty French, and chef Ignaico Mattos of Estela fame while running the bar program at the now-shuttered Flora Bar in the Met Breur museum. It wasn't until he stepped away from the industry and stopped drinking entirely in 2021 that he began to ponder the question that motivates him today: Why do we drink in the first place?
Zach's sobriety, ironically, led him to this place he now considers motivating: recognizing the human yearning to both connect with others over some drinks and yet also can't help but want to disconnect and change our state of mind, whether by drinking alcohol or our morning coffee. He considers the cultural implications to what it means to have started a spirits company while having personally experienced where the dangers of drinking too much can lead. He looks at Hugo's Cocktails as drinks meant to be enjoyed with others and not something simply to get drunk on.
Loading Related Guides...
You must be signed in as a media user to from Hugo's Cocktails and interact with hundreds of other media-ready brands.
Create your Media account
×