All Day
The Only Spice Blends You Need. Chef Crafted for Heavy Flavor and Low Sodium. Vegan, Clean-Sourced, All Natural.
Overview
| | |
| --- | --- |
| Date Established | 11/2021 |
| Founder | Starday Foods |
| Headquarters | United States |
| Industries | Food |
| Website | https://alldayflavors.com |
| Press Contact | Kristen Fattizzi |
| Social | |
About
Designed by top chefs and battle-tested in kitchens big and small, All Day is the most complete seasoning set to bring bold, complex flavor to every meal, mood and season. Use them solo in your favorite dishes, or mix and match to layer on the flavor. Heavy-handed usage is encouraged
All Day blends are clean-sourced, low-sodium, vegan, and all-natural.
Meet the Spice Force:
Fuego: a tangy-meets-sweet-heat blend for use in meat marinades, barbecue proteins, tacos, and anything that needs a little extra kick.
Boom: an earthy umami blend that adds depth to vegetables, soups, sauces and vegetarian dishes.
Poppin: a bright and herby blend that is ideal for vegetables, salad dressings, dips, pastas and more.
Founding Story
All Day is the second brand from Starday Foods. All Day's launch follows the August 2021 announcement of Starday and its first brand, Gooey Snacks.
Starday is a next-generation company building innovative food brands through a data driven lens with a focus on eco-responsibility and better-for-you ingredients. Leveraging best practices from the software industry to enable speed, efficiency, and empathy in food and beverage product development, Starday creates products that reflect what consumers want to be eating. Starday was founded by Lily Burtis, Chaz Flexman, Lena Kwak, and Caroline McCarthy and is backed by world-class investors and operators, including Equal Ventures and Slow Ventures, with additional support from Haystack, Great Oaks VC, XFactor Ventures, and Alpha Bridge Ventures. Learn more at stardayfoods.com.
Products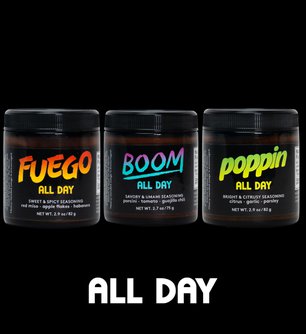 All Day Spice Force
$18.00
You must be signed in as a media user to and interact with hundreds of media-ready brands.
Create your Media account
×
Loading Related Guides...
You must be signed in as a media user to from All Day and interact with hundreds of other media-ready brands.
Create your Media account
×