RIND Snacks
A line of skin-on superfruit snacks focused on the power of the peel
Overview
| | |
| --- | --- |
| Date Established | 12/2017 |
| Founder | Matt Weiss |
| Headquarters | New York |
| Industries | Food |
| Website | https://www.rindsnacks.com |
| Press Contact | Sandy Blumberg |
| Social | |
About
RIND Snacks is a line of chewy, tangy, whole-fruit, "skin-on superfruit" snacks at the intersection of functional and sustainable snacking that welcomes everyone to: "Keep it Real & Eat the Peel." Launched in NYC in 2018, RIND® is the result of a multigenerational family focus on delicious, all-natural foods that sustain personal and planetary health. By keeping the rind on the fruit, RIND®'s snacks are packed with more fiber and vitamins than traditional dried fruit and also help fight food waste by using the fruit, the whole fruit, and nothing but the fruit. Every product is Non-GMO Project Verified, vegan and gluten-free. The Skin-On Dried Fruit line is available in Straw-Peary, Orchard, Tropical Blend, Coco-Melon, Coconut Crisps and Tangy Kiwi. For more information on RIND®, visit www.rindsnacks.com or follow them on social @rindsnacks.
Founding Story
Founder Matt Weiss drew inspiration for RIND Snacks from his great-grandmother, Helen Seitner, a health food pioneer who sold natural, whole grain foods from her "Stay-Well" health shop in Flint, Michigan in the 1920s. "Great-Grandma Helen preached the value of 'roots, rinds, seeds and stems' well before kale was cool," notes Matt. Her advice to never let the most nutritious part of food go to waste, particularly fruit rinds (known for their concentrated health benefits), planted the seed for Weiss to launch his own health food business decades later. For Weiss, RIND Snacks represents his great-grandmother's passion for both personal health and environmental sustainability.
RIND Snacks aspires to bring healthier, more responsible snacking to "fruit-ion." Small scraps of discarded food add up to a big problem: Americans waste nearly 40 million tons of food each year. Fruits and vegetables account for nearly 40% of all wasted food in the United States. A large portion of these scraps are the result of overripe, blemished produce or discarded peels which create unnecessary waste that is harmful to the environment. By using the whole fruit, RIND helps fight food waste by reducing the impact that discarded and edible peels represent of the 1.3 trillion tons of global annual food waste.
‍
Team Bios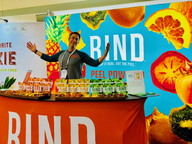 see bio
Testimonials
Loading Related Guides...
You must be signed in as a media user to from RIND Snacks and interact with hundreds of other media-ready brands.
Create your Media account
×