Whipnotic
Shaking Up Whipped Cream
About
Whipnotic, the brainchild of two visionary sisters, is flipping the industry on its can, taking the dessert and beverage world by storm with its revolutionary approach to whipped cream. Through a simple press of Whipnotic's innovative patented nozzle technology, a swirl of all-natural fruit juices and flavor essences infuses into the rich whipped cream. Rather than being a mere topping, Whipnotic has reimagined whipped cream as a sensational, guilt-free addition for everyday meals, beverages, snack, sweet treats and special occasions.
Whipnotic whipped creams are Keto-friendly, gluten-free, made with real cream and all natural color and flavor and available in more than 1,000 stores including retailers like Balduccis, Central Market, Citarella, Harmons, Kroger, Market District and The Fresh Market and now online at Whipnotic.com. Whipnotic is a certified Women's Business Enterprise (WBENC.)
Team Bios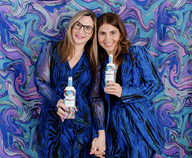 Tracy Luckow and Lori Gitomer
Co-founders
see bio
Entrepreneurs since childhood.
Loading Related Guides...
You must be signed in as a media user to from Whipnotic and interact with hundreds of other media-ready brands.
Create your Media account
×