TokyoTreat
Experience Japan from the comfort of your own home!
Overview
Date Established
11/2015
Founder
Ayumi Chikamoto
Headquarters
Tokyo, Japan
Industries

Food

Business

Website
https://tokyotreat.com/
Press Contact
Yvonne Brigitte
Social
About
Our Vision:
Create global connections through Japanese culture, making it common for people to experience Japanese culture and talk about it with fellow enthusiasts.
Our Mission:
Deliver "realistic" services to people overseas as if they were living in Japan. Spread Japanese culture around the world like an infrastructure; ICHIGO will become a convenience store for the world. Support small Japanese manufacturers to become global brands.
Founding Story
Tokyo native Ayumi Chikamoto started TokyoTreat after receiving requests from friends overseas to send popular Japanese snacks like candy and rice crackers. She realized that people all over the world would love Japanese snacks and culture, and decided to share it with them!
With a lot of hard work and long hours, it started as a small operation on her living room floor. Ayumi would hand-pick and pack Japanese candy and snacks into mystery boxes that she believed people would enjoy all around the world. And as a female CEO in a space dominated by men, she has led the way to share her experiences and culture with TokyoTreat subscribers.
Every month, these boxes were filled with items that have uniquely Japanese flavors and textures that represent all the different and delicious Japanese foods.
Now, TokyoTreat has become one of the most popular choices for monthly subscription boxes of Japanese snacks.
Products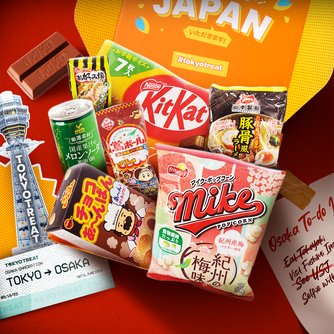 TokyoTreat Monthly Box
$32.50
You must be signed in as a media user to and interact with hundreds of media-ready brands.
Create your Media account
×
Loading Related Guides...
You must be signed in as a media user to from TokyoTreat and interact with hundreds of other media-ready brands.
Create your Media account
×