Metabolic by Dr. Layman
Transform Your Metabolism, Transform Your Life!
About
Metabolic by Dr. Layman is a revolutionary program that focuses on optimizing your metabolism to achieve your health and fitness goals. With our unique approach, you can energize your muscle metabolism, reset your metabolic age, and experience the transformative power of the Metabolic Lifestyle. Our products are designed to make the process easy, delicious, and mistake-free. Join us on this journey to unlock the secrets of a faster metabolism and live your best life.
Founding Story
In a world where diets and fads come and go, Dr. Layman had a different vision. He wanted to create a program that was based on solid scientific research and could truly make a lasting impact on people's lives. With his expertise in metabolism and nutrition, Dr. Layman set out to develop a comprehensive approach that would not only help people achieve their weight loss and fitness goals but also improve their overall health and well-being. Today, Metabolic by Dr. Layman is the result of years of dedication and innovation, and it continues to transform lives around the world.
Products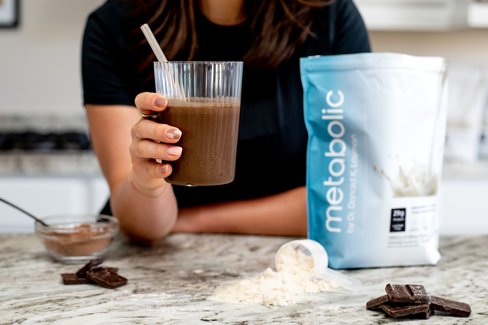 Metabolic ULTRA Bundle
$219.00
You must be signed in as a media user to and interact with hundreds of media-ready brands.
Create your Media account
×
Team Bios
see bio
Dr. Donald K. Layman is a renowned expert in the field of nutrition and metabolism. He has held esteemed positions in academia, serving as a Professor Emeritus of Nutrition at the University of Illinois. With a prolific research career, Dr. Layman has published over 100 peer-reviewed articles, primarily focused on the role of dietary protein and amino acids in regulating muscle protein synthesis, metabolic health, and overall well-being.
His groundbreaking research has significantly impacted the understanding of protein needs for adults, especially concerning weight management, muscle health, and the metabolic syndrome. Dr. Layman's work has been pivotal in illustrating the importance of leucine, an essential amino acid, in regulating muscle protein synthesis.
Over the years, Dr. Layman has received numerous awards and honors for his contributions to the field of nutrition. He has also been an active member of several nutrition and science-related associations, regularly contributing his expertise to advance research and education in the realm of nutrition science.
Outside the academic arena, Dr. Layman is often sought out for his insights and expertise, making him a popular speaker at conferences and seminars around the world.
Loading Related Guides...
You must be signed in as a media user to from Metabolic by Dr. Layman and interact with hundreds of other media-ready brands.
Create your Media account
×