Dryft Sleep
Better mornings begin with more restful nights
Overview
| | |
| --- | --- |
| Date Established | 01/2022 |
| Founder | Jess Windell & Lindsey Rosenberg |
| Headquarters | Los Angeles, CA |
| Industries | Health & Wellness |
| Website | https://www.dryfttosleep.com/ |
| Social | |
About
Truly restful beauty sleep starts with gentle, healthy breathing through your nose and makes all of your other sleeptime™ rituals that much more effective. That's what Dryft Sleep is here to do.
Dryft Beauty-Sleep Strips ensure no-hassle nasal breathing, every night, supporting overall digestion, staying hydrated, hormonal health and dental hygiene. Learn more, hear from experts and get your sleep on at www.dryfttosleep.com
Founding Story
Nasal breathing changed our lives and we believe it can help you, too.
Hi, we're Jess and Lindsey, founders of Dryft Sleep and aspiring super-sleepers. We know that to be our best selves, we've gotta get a good night's rest. Breathing through your nose sounds simple, but sometimes it's harder than we might think. We created Dryft Sleep because we want everyone to wake up more refreshed each day, so they can soar to new heights.
Here's to better mornings!
Products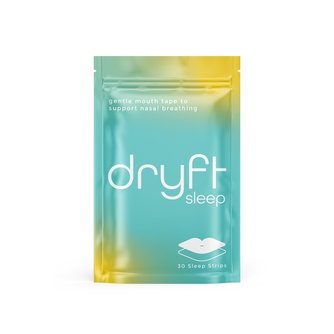 Sleep Strips (30-Pack)
$23.99
You must be signed in as a media user to and interact with hundreds of media-ready brands.
Create your Media account
×
Loading Related Guides...
You must be signed in as a media user to from Dryft Sleep and interact with hundreds of other media-ready brands.
Create your Media account
×